Administrator
Staff member
Hi Everyone,
This update adds a nice little file transfer progress window visible on the remotely connected machine: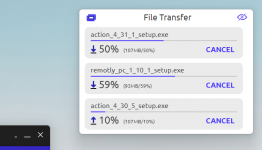 File transfer is full duplex so you can send and receive files at the same time. It is also possible to cancel each send/receive session using the CANCEL button.
The progress is also visible on the taskbar icon on both sides of the connection.
List of all changes:
- File transfer popup window
- Improved file transfer progress on the taskbar icon
- Other minor improvements